| | | |
| --- | --- | --- |
| Updated: 02/14/2000 | <![if ! IE 5]><![endif]> | |
Hi, Whats up
Meet Harley & Jennifer Sunderlin. We had a new baby girl which we named Kristin Lynn on June 19, 1998. The bundle of joy wouldn't have been so much of a shock if at least I known my wife was pregnant.

P.S My wife had no idea too.

---
07/16/1999
Has it been over a year since kristin was born. Well I guess it has where has the time went. She is walking now and has 2 little old teeth. Dad and mom are here favorite words as you would guess.


10/10/1999
Just to inform everyone about kristin lynn's progress. She now has about 7 teeth they are sharp too so don't stick your fingure in her month. I learned that lesson the hard way. She now has as full head of hair that you can see, by the way it is red. And I still say she looks like me even though everyone else say's she looks like her mom.

11/01/1999
Hi web surfer, I have been trying the Alladvantage Viewbar for two months and have finally received my first check for $24.66 dollars. Let's just say I didn't believe it at first. I just got paid for web surfing and I do that anyway. WOW this is great! Currently I have helped sign up 25 people and that keeps going up daily. I am sure they are enjoying every minute of it. If you're thinking about joining or just want to find more information go to Alladvantage.com. Make sure you provide my referral# EUN-626 when joining.



First alladvantage check read it and weep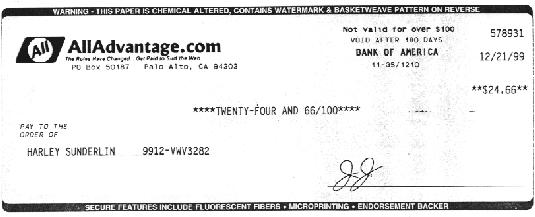 07/15/2000

Hello, Kristin is now 2 years old YAAAA. I think she wants to be a football player when she grows up, but her mom doesn't think so. Well anyway she has a lot of teeth, a whole head of hair about time and can say or try to say every word she hears. SO WATCH WHAT YOU SAY AROUND HER WILL YOU. O ya before I forget she is as cute as here dad, but that is my opinion.


---
You are visitor